PALLET RACKING - TAILOR MADE TO SUIT YOUR NEEDS
Maximise the use of cubic capacity within a storage area and take into account height limitations of building, lifting equipment, type and size of pallets or packaging.
We supply SPACERACK Pallet Racking, 100% Australian Owned and Operated, utilising only Australian materials. All of Spacerack's beams are made of high grade RHS tube to ensure absolute structure integrity. All systems are powder coated, galvanized or painted for a tough, resilient finish.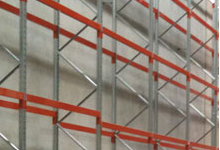 SELECTIVE PALLET RACKING
Selective Racking is the most economical storage system, forms the basis of all other systems, and allows direct access to all pallets. It is readily installed and simple to adjust.
Selective Racking can be accessed with most types of forklift trucks.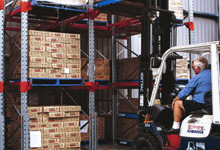 DRIVE-IN PALLET RACKING
Drive-In Racking is a unique pallet storage method, Drive-In is as close to "block stacking" as can be achieved while providing some additional selectivity and preventing the crushing of goods.
This storage solution allows the truck to drive into the centre of the racking to deposit and retrieve pallets.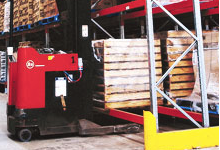 DOUBLE DEEP PALLET RACKING
This space-saving adaptation of selective racking stores two pallets deep (four deep for double entry), providing increased storage density although selectivity is slightly reduced. A purpose-designed forklift truck is required for Double Deep racking.
LIGHT DUTY CANTILEVER RACKING
Light Duty Cantilever Rack is the perfect solution for displaying or storing long or irregular loads. It is suitable for hand stacking or forklift load applications, and is available in a single or a double sided configuration.
Spacerack Light Duty Cantilever is Australian Made and manufactured in a range of standard sizes and can also be designed and manufactured to suit individual applications.
Standard Product Specifications
Column Heights: 1500 mm, 2400mm, 3000mm
Arm Lengths: 200,300,400, 450,600 and 900mm
Column Centres: 600, 900, 1200
Weight Carrying Capacity:  Maximum load 300kg per arm (subject to design )
Column: Maximum Load 3200kg
Finish: Powder Coat or Hot Dipped Galvanized   
HEAVY DUTY CANTILEVER RACKING
Our Australian Made Heavy Duty Cantilever Racking is the perfect solution for storing heavy long or irregular loads.
The Heavy Duty Cantilever Storage Racking is available in single or double sided configurations and can also be designed to be loaded by overhead crane or live load application.
Standard Product Specifications
Column Height: 5400mm
Arm Lengths: 900, 1200 and 1500mm
Column Centres: 1200, 1500, 1800
Weight Carrying Capacity: From 800 to 2000kg per arm
Column: From 3200 to 7200kg per column
Finish: Powder Coat or Hot Dipped Galvanized  
Custom Made: We can design and build a Heavy Duty Cantilever Rack to suit your specific needs 
We also Supply:
Racking Components (beams, frames, mesh decks)

Racking Accessories (Louvre panels, dump bins), and

Warehouse Racking Protection Devices (column guards)
 For a more information or customised solution, get in touch below.
Error validating access token: The session has been invalidated because the user changed their password or Facebook has changed the session for security reasons.